Welcome to San Antonio Oasis!
View our Fall 2022 Classes
San Antonio Oasis is a unique educational program for older adults.
Take a look at our Spring 2023 Program Catalog for the full list of classes and events.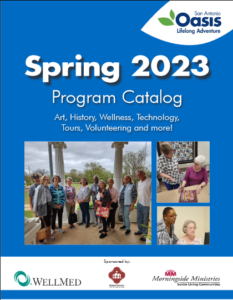 Walk In and Mail In – Registrations processed January 4, 2023
Registrations are placed in a box and randomly drawn and processed.
Online – Registration opens January 4, 2023 at 10:00am
Phone-In – Registration opens January 9, 2023
It's your time to enjoy lifelong learning!
Do you want to talk? Try Our Chat Line!
Silver Connect offers adults age 50 and above the opportunity to talk to a friendly volunteer for emotional support.
If you or someone you love would like to chat with one of our volunteers call Silver Connect today!
(210) 756-5551
Monday-Friday 5:00pm-9:00pm
Saturday-Sunday 9:00am-9:00pm
2021 Annual Report
Don't miss out!
To keep sharing our news with you using eblasts, our most efficient communications tool, we must have your permission.
Don't wait! To stay on our list to receive eblasts, you must opt in.Opting in is the only way you will be eligible to receive some of our most important updates. We don't want you to miss a thing.
To opt in right away, follow this quick link.