Welcome to San Antonio Oasis!
View our Winter/Spring 2024 Classes
San Antonio Oasis is a unique educational program for older adults.
Take a look at our Winter/Spring 2024 Program Catalog for the full list of classes and events.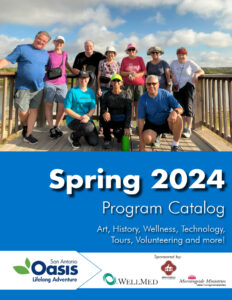 Walk In and Mail In – Registrations processed January 3, 2024. Registrations are placed in a box and randomly drawn and processed.
Online – Registration opens January 3, 2024 at 9 a.m.
Phone-In – Registration opens January 8, 2024.
It's your time to enjoy lifelong learning!
Do you want to talk? Try Our Chat Line!
Silver Connect offers adults age 50 and above the opportunity to talk to a friendly volunteer for emotional support.
If you or someone you love would like to chat with one of our volunteers call Silver Connect today!
(210) 756-5551
Monday–Friday 5 p.m.–9 p.m.
Saturday–Sunday 9 a.m.–9 p.m.
How to Register Online
Registering for classes online is easy and can be done any time – night or day! Watch this video to learn how to register online for classes.
Intergenerational Tutoring
You can change a life by providing the individual attention that helps children build confidence and experience success.
Since 1993, San Antonio Oasis has offered Oasis Intergenerational Tutoring, which pairs adults age 50 and older with children in grades 1-3 to promote success in reading. Volunteers are needed to spend one hour a week with the same child throughout the school year.
Trips, Tours & Events
emilyg
Thursday, November 9 | 5:00 - 11:30 p.m.  Join us for an evening performance of Annie at the Majestic Theatre and dinner at Poblanos! The musical, Annie, is set in The Big Apple, New York City, and is based on a daily newspaper comic strip that premiered in 1924, itself based on an 1885 poem, "Little Orphan Annie." Holding onto hope when times are tough can take an
Read More...
Check out this Class
Oasisnet Webmaster
Mondays, October 30-December 11 from 1–2:30 p.m.
Over-the-counter pain medications, such as Tylenol, are convenient and in almost everyone's medicine cabinet. However, over-the-counter medications have some risks, especially if you have existing chronic health conditions or take prescription medications. Similarly, the internet
Read More…
2021 Annual Report
Don't miss out!
To keep sharing our news with you using eblasts, our most efficient communications tool, we must have your permission.
Don't wait! To stay on our list to receive eblasts, you must opt in.Opting in is the only way you will be eligible to receive some of our most important updates. We don't want you to miss a thing.
To opt in right away, follow this quick link.